Laura's Story - 6 Times and Counting
8 years ago Laura walked in to our office looking for help selling her home.
In the 8 years since, we've helped her sell or buy 6 homes.
Our goal at the Homecraft Group is to create client experiences that produce incredible results. Ultimately, we want our clients to be so happy with our results that they will hire us again in the future should the need arise. We're incredibly proud of the fact that a lot of our business comes from past clients who work with us again, or their friends and family that they refer us to.
Laura and Pete recently got married and decided they wanted to sell their condo and buy a home with the yard Laura always dreamed of. So when Laura contacted us a few months ago to let us know she wanted to sell her condo and buy a home, we were thrilled at the opportunity to work together again.
We started off by meeting over at her condo for a market analysis. Laura had maintained her condo beautifully and made some nice updates like adding granite counters, new windows, and stunning maple hardwood floors.
After reviewing the recent comparable sales of similar condos in her neighborhood, we both agreed that we had something special in her condo and there was no reason to settle for a list price in the range of what had recently sold. We decided to "swing for the fences" and listed her condo for about $10,000 more than the comparable sales. This isn't always the best strategy, but when you've got a condo as beautiful as Laura's, you have to think bigger!
Now it was time to get working on the marketing.
We started out by bringing in our professional photographer to take stunning HD photos of her condo, and film a 3-D virtual tour.
Now that we had the photos and virtual tour complete, it was time to get started with the pre-listing marketing, or what we call the "Coming Soon" campaign. By strategically targeting our listings to custom audiences on Facebook and email, we have the ability to get visibility on our listings BEFORE they hit the market by people most likely to be interested in them.
Here's a copy of the "Coming Soon" campaign we launched on Facebook for Laura a few days before we put her condo on the market.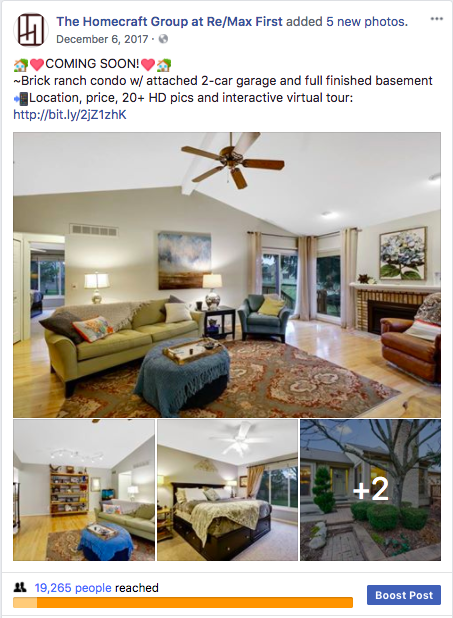 The results were incredible! We reached over 19,000 people with that campaign. Almost 400 people registered to learn more about her condo and see the photos and details before it hit the market. This strategic, pre-sale marketing allows us to hit the ground running by building up the buzz before the home hits the market.
We also sent an email blast to the nearly 800 potential home buyers we have in our database who were looking for condos in Laura's area.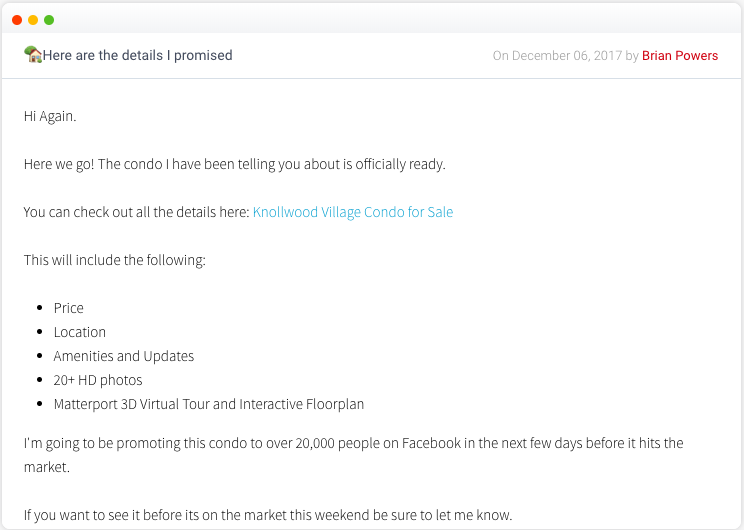 Once we put the home on the market it did not take long to see the results we were looking for. We had 8 showings the first day and by day 2 we had received 2 offers, both over list price. Laura accepted an offer $5000 above our list price (and $15,000 above recent comparable sales!).
A little over 5 weeks later we were at the closing table for the big day.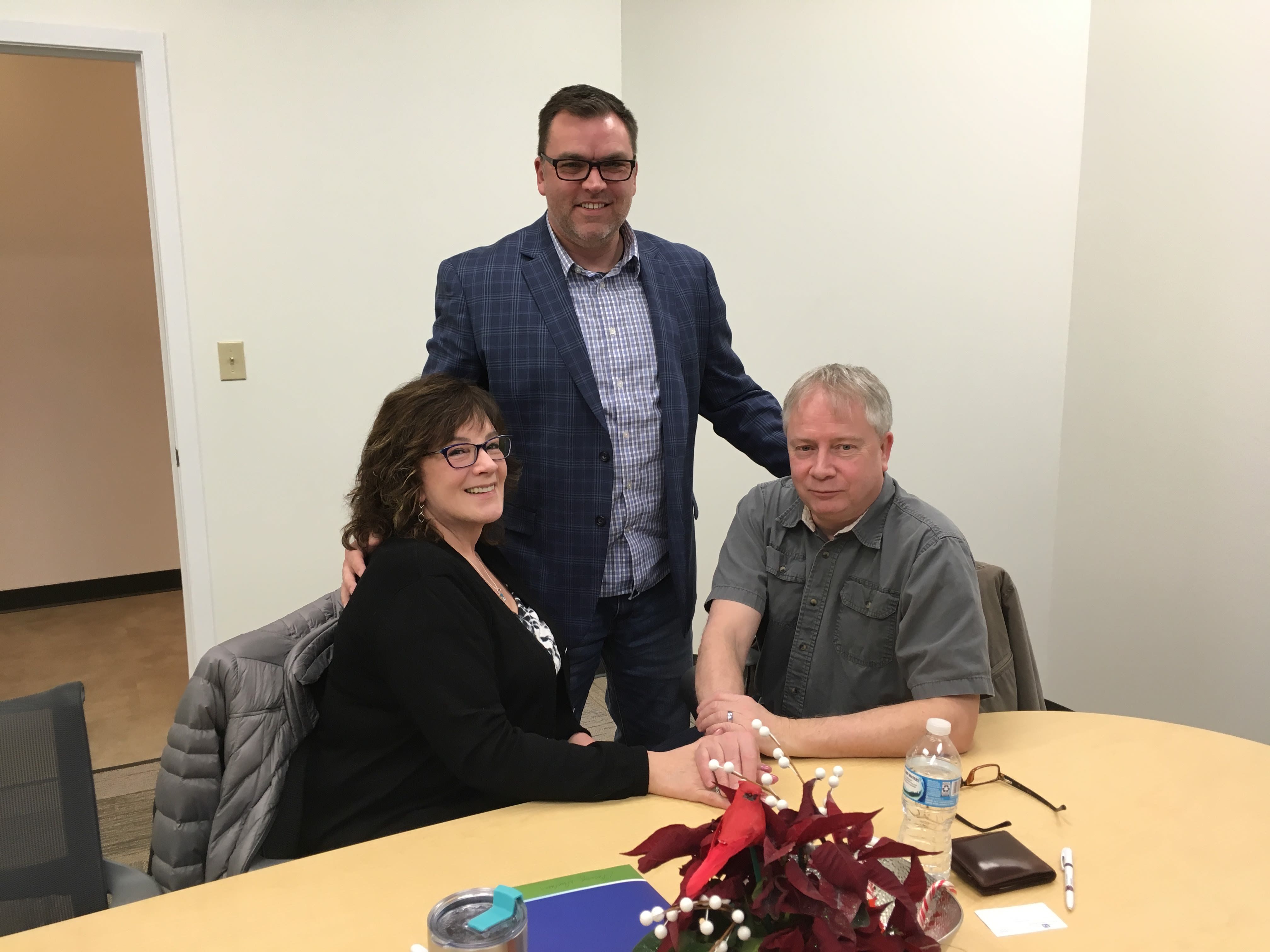 ---
---
Learn more about our approach to selling homes and how we get such great results for our clients.
Better Marketing...Better Listings...Better Results! Our approach to selling homes for our clients focuses on strategic marketing to get you the best results possible.
See what our clients have to say about the work we do for them.